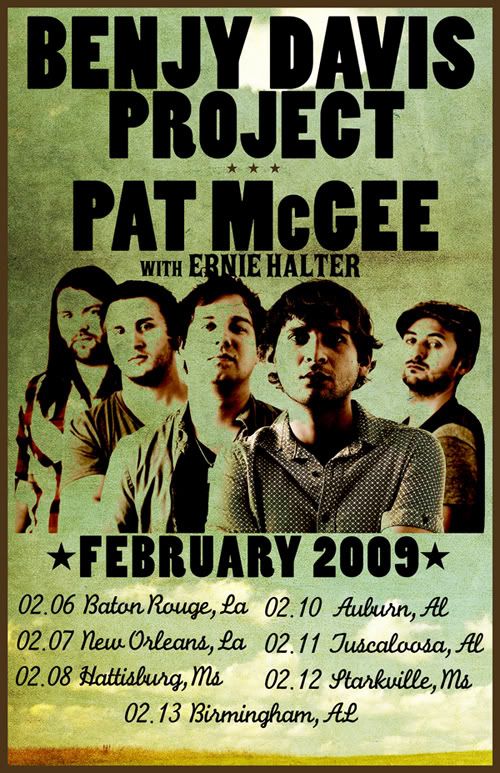 I have had the pleasure of seeing the Benjy Davis Project live twice and both times it was fantastic! How such a young band can play with the sound of great experience is amazing. This band from Baton Rouge, Louisiana has built a substantial following all across the US, but their strongest fans seem to naturally hail from Louisiana! Great musicians are not something we are short on down here, and BDP is another example of that!
Their energy is fantastic, and I'm not much on technical musical terms, but they are awesome...how's that? :) I LOVE when a band can write their own music, and these boys know how to rock it out! Their shows never disappoint. From soft love ballads, to edgier tunes about social issues affecting us all, BDP has something for everyone.
From their
Myspace Page:
In the wide world of American music, certain bands have a way of building an exciting life for themselves away from the glare of national attention. Much of that is because of the relationship the group has with its fans. It usually starts in small clubs or even backyards in their hometown, then spreads to nearby cities, neighboring states and soon across entire regions, until the band finally comes into its own as a national presence.

The Benjy Davis Project is poised to take on that presence. They've spent the past seven years building fan strongholds around the U.S., releasing three albums that capture their unique force. Davis's songs speak to the ability of music to move an audience, as seen in countless nights of touring and performing. There comes a point in a breakthrough band's career where they finally turn that corner into greatness. With the release November 4th on Rock Ridge Music of the Benjy Davis Project's album, "Dust," this Baton Rouge, Louisiana-based band now moves into that moment.

"I want to reach people and hopefully touch them in some way." That's how Benjy Davis describes his mission, and music is his medium. It's always been that way for him, since he was a young teenager in Louisiana, listening to everything on the radio, taking it all in until it would be his time to step up and become an artist. He formed the Benjy Davis Project in 2001, which began as a simple folk-rock duo but soon grew into one of the most popular bands in Baton Rouge. Eventually expanding into a six-piece group, the Project has recorded three albums prior to "Dust," each a big leap from the one before, and played across the country as headliners and support act on shows with John Mayer, Better Than Ezra, North Mississippi All-Stars and others, as well as events like the New Orleans Jazz & Heritage Festival. All this experience has brought them to that place where they can become the next band to take their Southern-based sound to a new level of national popularity.
You can follow the band on
Facebook,
Twitter
and
Myspace
I can't wait to hear the bands next album! Be sure to check them out and if you can catch them live, I suggest it! Naturally, purchasing their albums helps support our goal of supporting local musicians, artisans and local community! I have all three albums and LOVE them! :)Check them out on
CDBaby
and on
Amazon.